Board books and poetry titles are some of this month's 38 starred titles that also include transitional books, graphic novels, and more.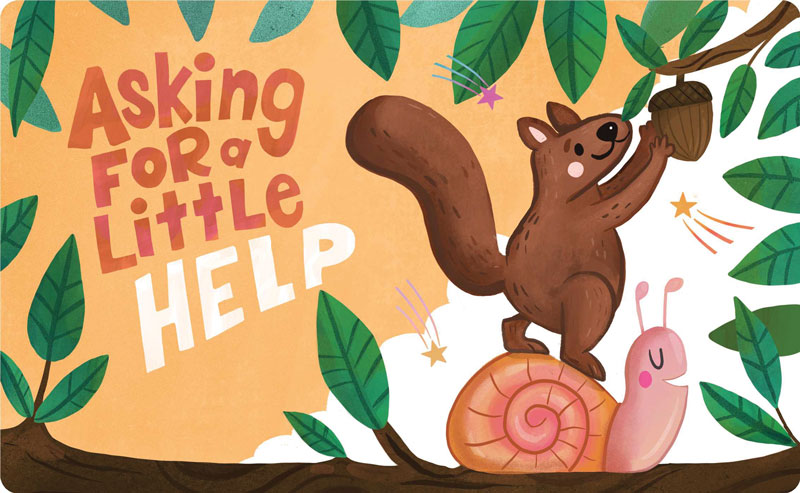 Being Brave (Jin) ©2023 by Ashley Dugan
Board Books
Arena, Jen. Marta! Big & Small. illus. by Angela Dominguez. Roaring Brook.
Chow, Wendy. First Words with Cute Quilted Friends. Blue Star.
Esbaum, Jill. Bath Time Physics. MIT Kids.
Jin, Cindy. Being Brave. illus. by Ashley Dugan. Little Simon.
Kuhlmann, Jekka & others. Little Dumplings. illus. by Manita Boonyong. Chronicle.
Sanchez Vegara, Maria Isabel. Vanessa Nakate. illus. by Olivia Amoah. Frances Lincoln.
Wittner, Laura. Babylink: If Mama Sings. ­illus. by Marciel Clark. Interlink.
Picture Books
Datcher, Michael. Harlem at Four. illus. by Frank Morrison. Random House Studio.
Desnitskaya, Anna. On the Edge of the World. Eerdmans.
Dyball, Rennie. B Is for Bellies. illus. by Mia Saine. HarperCollins/Clarion.
Gorman, Amanda. Something, Someday. illus. by Christian Robinson. Viking.
Jasinski, Jen Fier. My Piano. illus. by Anita Bagdi. Gnome Road.
Raúl the Third. ¡Vamos! Let's Go Read. Clarion/Versify.
Reynolds, Jason. There Was a Party For Langston. illus. by Jerome ­Pumphrey & Jarrett Pumphrey. Atheneum/Caitlyn Dlouhy.
Schimel, Lawrence. Lucky Me. illus. by Juan Camilo Mayorga. Orca.
Vigg. Lost Inside My Head. Orca.
Wallace, Chelsea Lin. The Boo-Boos of Bluebell Elementary. illus. by Alison Farrell. Chronicle.
Wilkins, Ebony Joy. Zora, the Story Keeper. illus. by Dare Coulter. Penguin/Kokila.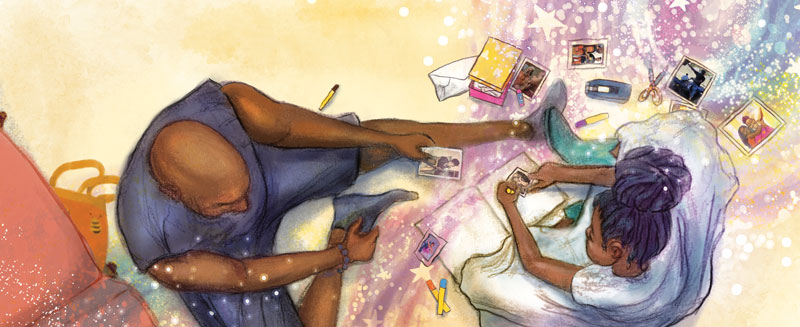 Zora, the Story Keeper (Wilkins) ©2023 by Dare Coulter
Transitional Books
Rylant, Cynthia. Hornbeam All In: Three Small Stories About One Large Moose. illus. by Arthur Howard. S. & S./Beach Lane.
Middle Grade
Everett, Sarah. The Probability of Everything. HarperCollins/Clarion.
Rissi, Anica Mrose. Wishing Season. HarperCollins/Quill Tree.
Sales, Leila. The Museum of Lost and Found. Abrams/Amulet.
YA
Hatzopoulou, Kika. Threads That Bind. Penguin/Razorbill.
Kenwood, Nina. Unnecessary Drama. Flatiron.
Graphic Novels
Alsaqa, Jordan. Cooking with Monsters: The Beginner's Guide to Culinary Combat. illus. by Vivian Truong. IDW.
Cohen, Emily Bowen. Two Tribes. HarperCollins/Heartdrum.
Madden, Colleen. Shelley Frankenstein!: CowPiggy. Top Shelf.
Wheeler, Kate. Team Trash: A Time Traveler's Guide to Sustainability. illus. by Trent Huntington. Holiday House.
Nonfiction
Aberg-Riger, Ariel. America Redux: Visual Stories from Our Dynamic History. HarperCollins/Balzer + Bray.
Bauer, Marion Dane. The Night Sky. illus. by John Wallace. S. & S./Simon Spotlight.
Cooper, Ilene. This Boy: The Early Lives of John Lennon & Paul McCartney. Viking.
Markel, Michelle. Tomfoolery! Randolph Caldecott and the Rambunctious ­­Coming-of-Age of Children's Books. illus. by Barbara McClintock. Chronicle.
Mufleh, Luma. From Here. Penguin/Nancy Paulsen.
Shepard, Ray Anthony. A Long Time Coming: A Lyrical Biography of Race in America from Ona Judge to Barack Obama. illus. by R. Gregory Christie. Astra/Calkins Creek.
Taylor, Sonya Renee. The Book of Radical Answers: Real Questions from Real Kids Just Like You. Dial.
Thomas, Isabel. The Bedtime Book of Incredible Questions. illus. by Aaron Cushley. Bloomsbury.
Poetry
Dotlich, Rebecca Kai & Georgia Heard. Welcome to the Wonder House. illus. by Deborah Freedman. Wordsong.
Odenkirk, Bob. Zilot & Other Important Rhymes. illus. by Erin Odenkirk. Little, Brown.