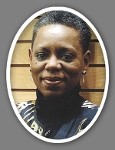 Tonya Bolden is one of the most prolific and acclaimed authors of children's and young adult literature that focuses on Black history. We thought it was fitting to conclude our Black History Month nonfiction/fiction pairings by highlighting a selection of her works for young people. The offerings are organized in chronological order, from enslavement to modern-day.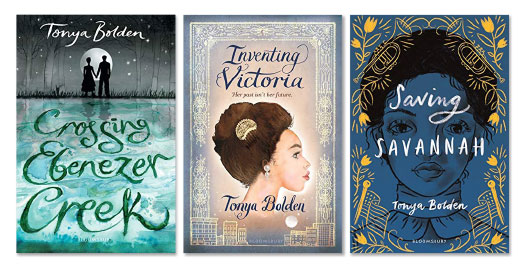 Fiction
Though she's primarily known for her nonfiction, Bolden also wrote a trio of loosely connected novels that take place from enslaved Georgia in 1864 to the early 1900s in Washington, D.C.
Crossing Ebenezer Creek by Tonya Bolden. Bloomsbury. ISBN 9781599903194.
Gr 7 Up—In 1864, teenager Mariah and the other African Americans living in slavery on her plantation are freed by Union forces and encouraged to begin following General Sherman's march through Georgia. Caleb assists Mariah as she prepares to join the march. Caleb and Mariah are immediately attracted to each other but are hesitant to express their feelings, so their relationship evolves slowly. Their pasts make trusting people difficult, and their presents make clear that freedom solves many problems but doesn't erase racism. The resulting tragedy at Ebenezer Creek has largely been forgotten but is retold here as a powerful message to present-day readers. The refrain "colored lives don't matter" creates resonance with current events. This phrase is backed up by discussion of overt violence against the African American characters (including rape). The well-executed premise, a compelling love story, and unique historical details will appeal to fans of Ruta Sepetys's Salt to the Sea. VERDICT This moving and engrossing portrayal of a little-known historical tragedy belongs on all YA shelves.
Inventing Victoria by Tonya Bolden. Bloomsbury. ISBN 9781681198071.
Gr 8 Up—Fourteen-year-old Essie Mirth is ashamed of her prostitute mother, Praline, and the house of repute on Minis Street in 1880s Savannah (Forest City). She earns a housekeeping position at Abby Bowfield's boardinghouse, where she meets a mysterious boarder named Dorcas Vashon. She is taken under Dorcas's wing, leaves her humble beginnings behind, and reinvents herself in Baltimore as Victoria Vashon, the niece of Dorcas. She receives strict education and etiquette training from Agnes Hardwick. The protagonist is soon welcomed by the Black middle class and Black aristocracy in Washington, D.C. She is disturbed by the obnoxious, class-conscious, and color-struck attitudes of the other society ladies. Bolden makes this YA novel promising and enjoyable with a combined weaving of history and fiction. It is poetic, breathtaking, descriptive and fast-paced. Fans of Bolden's Crossing Ebenezer Creek will recognize Praline, but Victoria's story stands alone. Some Black historical figures are incorporated into the narrative. VERDICT An excellent choice for YA historical fiction shelves.
Saving Savannah by Tonya Bolden. Bloomsbury. ISBN 9781681198040.
From the publisher: From acclaimed author Tonya Bolden comes the story of a teen girl becoming a woman on her own terms against the backdrop of widespread social change in the early 1900s. Savannah Riddle is lucky. As a daughter of an upper class African American family in Washington D.C., she attends one of the most rigorous public schools in the nation—black or white—and has her pick among the young men in her set. But lately the structure of her society—the fancy parties, the Sunday teas, the pretentious men, and shallow young women—has started to suffocate her. Then Savannah meets Lloyd, a young West Indian man from the working class who opens Savannah's eyes to how the other half lives. Inspired to fight for change, Savannah starts attending suffragist lectures and socialist meetings, finding herself drawn more and more to Lloyd's world. Set against the backdrop of the press for women's rights, the Red Summer, and anarchist bombings, Saving Savannah is the story of a girl and the risks she must take to be the change in a world on the brink of dramatic transformation.

Nonfiction
From picture book biographies to titles about how institutional racism affects politics and disenfranchises Black people in this country, Bolden's books cover a huge range of subjects and time periods.
Capital Days: Michael Shiner's Journal and the Growth of Our Nation's Capital by Tonya Bolden. Abrams. ISBN 9781419707339.
Gr 4–6—This well-designed read details the story of Michael Shiner (1805–80), a slave in 19th-century America who eventually gained his freedom and who left a diary behind detailing an account of his life. Born into slavery in Maryland, Shiner came to Washington, D.C. as a child, where he was later leased by his owner Thomas Howard to the Navy Shipyard. Shiner eventually purchased his freedom, started a family, and learned to read and write—skills that would allow him to start writing his journal. Bolden tracks Shiner's life, giving readers a unique view into the history of America's capital. VERDICT Well written and impeccably researched, this excellent title offers a uniquely personal look at history. A must-have.
How To Build a Museum: Smithsonian's National Museum of African American History and Culture by Tonya Bolden. Viking. ISBN 9780451476371.
Gr 5 Up—One hundred years ago, the National Memorial Association was formed to establish a monument honoring African American veterans of the Civil War. While the committee was abolished during the Depression, the dream was not. However, it took another 70 years of urging by activists and politicians to renew interest in the project. Bolden investigates this history and the search for a museum director and artifacts. In addition, she discusses the museum's location on the National Mall, a place once bordered by "holding pens for enslaved people bound for the Deep South." Archival and contemporary photos and reproductions of artwork and other materials enhance this clearly written, well-documented book. VERDICT An important, profusely illustrated account of the history, building, and collections of a national treasure.
Emancipation Proclamation: Lincoln and the Dawn of Liberty by Tonya Bolden. Abrams. ISBN 9781419703904.
Gr 5–9—After a dramatic opening description of abolitionists waiting for word that the Emancipation Proclamation had been signed, this riveting title reviews the events that led up to the Civil War, examines Lincoln's reasons for writing it, and details the role of abolitionists. Bolden makes excellent use of primary sources; the pages are filled with archival photos, engravings, letters, posters, maps, newspaper articles, and other period documents. Detailed captions and a glossary interpret them for today's readers. All the visual elements combine to give pages the look of a scrapbook, making the title a pleasure to browse as well as a source of research material. Bolden has chosen to tell the story in a personal voice, from the perspective of African Americans and abolitionists, "who were pledged to universal liberty."

Dark Sky Rising: Reconstruction and the Dawn of Jim Crow by Henry Gates, Jr. with Tonya Bolden. Scholastic Focus. ISBN 9781338262049.
Gr 9 Up—Renowned scholar and debut YA author Gates Jr., along with Bolden, have crafted an excellent work on the rise of Jim Crow laws in the South. The authors detail the changing rights of African Americans during the Civil War and the many legal acts that gave rights of citizenship to Black people. Also explained are the tides of white violence, racism, and changing political and economic landscapes that prevented or weakened protections. The writing is at times lyrical, with repeated phrases and beautifully constructed prose. VERDICT A first purchase for YA nonfiction collections, especially to support history curricula.
Facing Frederick: The Life of Frederick Douglass, a Monumental American Man by Tonya Bolden. Abrams. ISBN 9781419725463.
Gr 7 Up—Bolden successfully demonstrates in this biography how monumental a figure Frederick Douglass is in U.S. history. Rather than provide readers with a straightforward chronological account, she tells of Douglass's work as a publisher, a diplomat to Haiti, a bank president, and a prolific writer. Bolden immerses students in Douglass's world, effectively capturing the atmosphere of the times. Bolden supplements her text with photographs, drawings, and images of his publications. What elevates these visuals are Bolden's meticulous descriptions of each one (albumen print, daguerreotype, watercolor, lithograph, etc.). VERDICT Bolden adroitly demonstrates the wealth of Douglass's life and accomplishments with this stellar biography. A must for all nonfiction collections.
No Small Potatoes: Junius G. Groves and His Kingdom in Kansas by Tonya Bolden. illus. by Don Tate. Knopf. ISBN 9780385752763.
K-Gr 3—Bolden has written a delightful picture book biography of Junius G. Groves, who was born into slavery in 1859 but went on to create an agricultural empire that earned him the title "Potato King of the World" in 1902. As part of the mass exodus of African Americans from the South after the Civil War, Groves left Kentucky and settled in Kansas. There he educated himself in the science of agriculture and successfully built a vast potato growing empire that made him one of the richest men in his time. Bolden retells this tale of a life of hard work and lasting influence in a narrative peppered with alliterative, and occasionally rhyming, phrases. Quotes from Groves's diary are set in text boxes throughout the book. Tate successfully matches the energy of the text with engaging cartoon artwork, done in mixed media with a palette of sandy browns and bright greens, which thoughtfully depict Groves and his family. VERDICT A charming mix of biography, history, agriculture, math, and lots of potatoes—a great addition to nonfiction collections.
Searching for Sarah Rector: The Richest Black Girl in America by Tonya Bolden. Abrams. ISBN 9781419708466.
Gr 6–8—When Sarah Rector turned 18 in 1920, the young Black woman had amassed a fortune estimated at $1 million. In telling her story, Rector and her family were "Creek freedmen," Black citizens of the Creek Indian nation. When the Creeks were forced to resettle west of the Mississippi in the 1800s, each one received a land allotment. Sarah's contained rich oil deposits, making her enormously wealthy. When she disappeared, the Black-owned newspaper, the Chicago Defender, and the NAACP even suggested that Sarah had been kidnapped and that her legal guardians were profiting at her expense. Piecing together the facts clearly reflects Bolden's skill as a history writer—her rigorous questioning of documents; her own clearly stated position on what the "facts" mean; and her extensive use of visual material, such as newspaper articles, maps, paintings, and photographs. Bolden makes a largely unknown portion of American history accessible to young readers.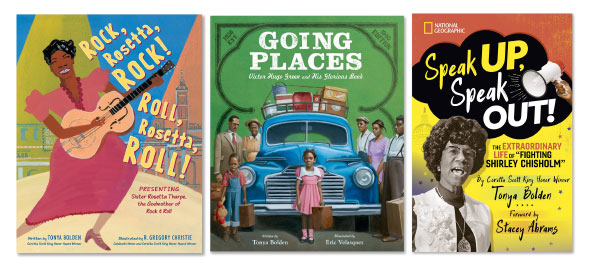 Rock, Rosetta, Rock! Roll, Rosetta, Roll!: Presenting Sister Rosetta Tharpe, the Godmother of Rock & Roll by Tonya Bolden. illus. by R. Gregory Christie. HarperCollins. ISBN 9780062994387.
Gr 1-4–Rosetta Tharpe was an American singer and guitarist who rose up in gospel music and broke into the mainstream of American music in the 1930s and 1940s. She influenced many well-known musicians, including Elvis Presley, Johnny Cash, Little Richard, and Aretha Franklin. Told in free verse, this picture book biography chronicles her life, from her upbringing in rural Cotton Plant, AR, to accompanying her preacher mother to Chicago, to making a life for herself in New York City. Christie's vibrant illustrations bring the story to life with movement and punch, matching Tharpe's personality. A time line in the back matter further fleshes out her personal life and career. VERDICT A fresh and female addition to the music legend canon, purchase where picture book biographies, especially those about musicians/rock history, circulate well.
Going Places: Victor Hugo Green and His Glorious Book by Tonya Bolden. illus. by Eric Velasquez. HarperCollins/Quill Tree. ISBN 9780062967404.
Gr 3-6–Velasquez grabs readers right from the start with a book jacket saturated with color and details of a 1940s family ready to leave on a trip in their blue Packard, against the signature color of the Green Book. Bolden opens her story with an introduction to Victor Hugo Green, New Jersey letter carrier. He takes his job seriously, and he believes in tackling problems with solutions. It's the Great Depression, and even though times are tough, people want to travel. Black Americans are traveling for business, vacation, family events, and special occasions, encouraged to purchase cars to avoid the hardships and dangers of Jim Crow laws and sundown towns. Green sees a need for better communication to help travelers stay safe, doing extensive research. His first effort is "The Negro Motorist Green Book," a pamphlet published in 1936, with information for safe travel in and around New York City. Bolden has perfectly combined the painful story of Jim Crow and segregation with the strength and determination of Black Americans to live a full life. The illustrations are combined with recreated newspaper articles, actual Green Book covers, and photographs. VERDICT A highly recommended addition to any collection.
Speak Up, Speak Out! The Extraordinary Life of Fighting Shirley Chisholm by Tonya Bolden. National Geographic. ISBN 9781426372377.
Gr 6-10–Shirley Chisholm is largely known for being the first Black candidate for a major-party nomination for President of the United States, and the first woman to run for the Democratic party's nomination. This slim but thorough biography of the Brooklyn native proves that she was making a difference in the lives of others long before and long after. Raised by working-class immigrant parents from Barbados, Chisholm was taught to fight for what was best—for herself, her family, and her community. That education led her to successes as a teacher, a New York State Assemblywoman, and in 1968, the first Black woman elected to Congress. Bolden uses her masterful historian skills to narrate the details of Chisholm's life and career, presenting the political and social context for the politician's accomplishments. The wide margins, short chapters, and attention-grabbing chapter headers and openings make this title accessible and engaging. Bolden adeptly presents the unique struggle that Chisholm had as a woman and a Black person fighting for a historic win. She also doesn't hesitate to present her subject's faults. VERDICT Purchase this engaging biography to fill too-wide gaps in American history.

Collective Biographies
Changing the Equation: 50+ US Black Women in STEM by Tonya Bolden. Abrams. ISBN 9781419707346.
Gr 5-8–Bolden's broad view of STEM, including profiles of physicians and medical professionals, is aimed at middle grade readers interested in science careers. The book opens with a section devoted to Black women who battled racism and discrimination following the Civil War. Many women in the book earned pioneer status: the first to pass a state medical exam, graduate from medical college, practice medicine, or head a science department. The second section celebrates those who entered aviation, bacteriology, mathematics, and architecture. The third section features geneticists, marine biologists, and the inventor of the device to remove cataracts. Even though it is a pleasure to discover so many overlooked geniuses, it's sobering to learn that only one percent of Black women earned engineering degrees in 2015. VERDICT Bolden, a master of the collective biography, presents an impeccably researched call to action, imploring Black girls to fight the racial and gender imbalance that plagues the STEM field.
Pathfinders: The Journeys of 16 Extraordinary Black Souls by Tonya Bolden. Abrams. ISBN 9781419714559.
Gr 5–8—The lives of 16 fascinating and innovative Black men and women are given due recognition in this masterly work. Bolden makes use of a variety of features to convey information in an accessible yet deeply enlightening manner. With a variety of subjects in different fields, from a magician to a mathematician, a bank founder to a race car driver, there is plenty of fresh report material within these pages. The clean layout and the smart design make for a book that is not only expertly researched but attractive as well. VERDICT Teachers and librarians seeking to further develop their history and biography collections will be thrilled with this fine offering.
Race & Politics
One Person, No Vote: How Not All Voters Are Treated Equally by Carol Anderson with Tonya Bolden. Bloomsbury. ISBN 9781547601073.
Gr 6 Up–This very readable teen adaptation of Anderson's New York Times bestseller covers the systematic, racially motivated legal, physical, and psychological tactics used since the end of Reconstruction to suppress Black, poor, and/or otherwise marginalized voters. In a chatty voice, Anderson explains poll taxes, literacy tests, intimidation, gerrymandering, and voter ID laws. Anderson also discusses the recent technological methods used to disenfranchise voters—gerrymandering databases, Russian interference via social media, and blanket voter roll purges. Because of the seriousness of the subject, the first three-fourths of the book is disheartening and discouraging. However, the final quarter details the Alabamian resistance to voter suppression and the defeat of Roy Moore in his 2017 bid for the U.S. Senate seat. The author concludes by emphasizing how this trend of purposeful voter education and activism must continue to preserve democracy in the United States. VERDICT Highly recommended.
We Are Not Yet Equal: Understanding Our Racial Divide by Carol Anderson with Tonya Bolden. Bloomsbury. ISBN 9781547600762.
Gr 9 Up—Prolific and celebrated author Bolden has adapted Anderson's White Rage for YA audiences. The text guides readers through an analysis of the relentless attacks on the protected rights and social mobility of Black Americans by white people through legislative and judicial acts. The work details countless cases and includes paths to further research in its establishment of the undeniable legislative and judicial roots of systemic racism, including the criminalization of Black people in the 1980s during the crack epidemic. Using this easy-to-follow informational text with a robust list of citations, readers can witness 150 years of continuous systemic racism and deeply understand the mechanism by which federal protection is given then taken away by special agency, state, or local political action. VERDICT A necessary resource for YA nonfiction collections.