A manga title makes the starred list, as well as two Kwame Alexander audiobooks, the latest Brian Selznick novel, a Joy McCullough title in both audio and print, and more.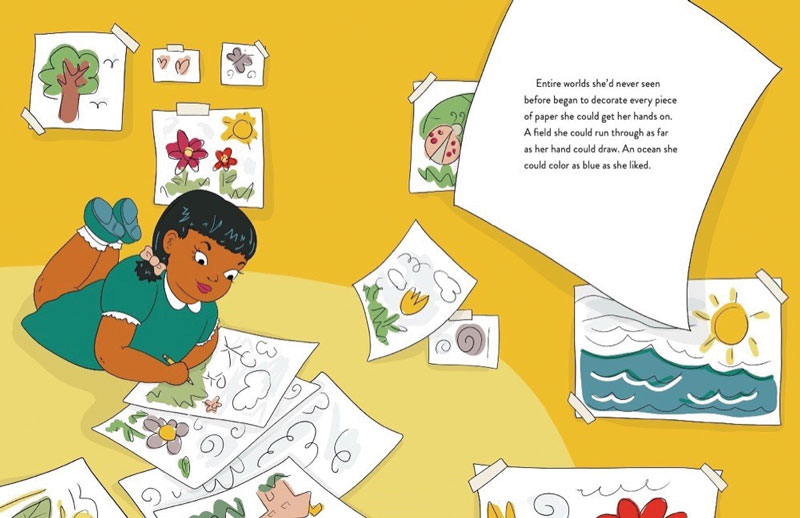 Jackie Ormes Draws the Future: The Remarkable Life of a Pioneering Cartoonist (Montague) ©2023 by Liz Montague
Picture Books
Evans, Gabriel. A Human for Kingsley. Little Hare.
Irving, A.J. The Wishing Flower. illus. by Kip Alizadeh. Knopf.
Petrus, Junauda. Can We Please Give the Police Department to the Grandmothers? illus. by Kristen Uroda. Dutton.
Transitional Books
Ransom, Candice. Graduation Day! illus. by Ashley Evans. Random.
Middle Grade
Alkaf, Hanna. Hamra and the Jungle of Memories. HarperCollins.
Nayeri, Daniel. The Many Assassinations of Samir, the Seller of Dreams. illus. by Daniel Miyares. Levine Querido.
Oh, Ellen, ed. You Are Here: Connecting Flights. Harper/Allida.
Selznick, Brian. Big Tree. Scholastic.
YA
Kemp, Laekan Zea. An Appetite for Miracles. Little, Brown.
McCullough, Joy. Enter the Body. Dutton.
Mora, Maria Ingrande. The Immeasurable Depth of You. Peachtree Teen.
Oshiro, Mark. Into the Light. Tor Teen.
Williams, Brittany N. That Self-Same Metal. Abrams/Amulet.
Graphic Novels
Brown, Don. 83 Days in Mariupol: A War Diary. HarperCollins/Clarion.
Grant, Shauna J. Mimi and the Boo-Hoo Blahs. Scholastic/Graphix.
Tang, Betty C. Parachute Kids. Scholastic/Graphix.
Wood, Jennie. Paper Planes. illus. by Dozerdraws. Mad Cave Studios.
Manga
Asakura, Akinari. Show-ha Shoten! Vol. 1. illus. by Takeshi Obata. tr. from Japanese by Stephen Paul. Viz.
Nonfiction
Charles, Tami. Ketanji Brown Jackson: A Justice for All. illus. by Jemma Skidmore. S. & S.
Dronfield, Jeremy. The Boy Who ­Followed His Father into Auschwitz: A True Story Retold for Young Readers. HarperCollins/Quill Tree.
Edinger, Monica & Lesley Younge. Nearer My Freedom: The Interesting Life of Olaudah Equiano by Himself. Zest.
Furrow, Robert & Donna Jo Napoli. We Are Starlings: Inside the Mesmerizing Magic of a Murmuration. illus. by Marc Martin. Random.
Hopkinson, Deborah. Race Against Death: The Greatest POW Rescue of World War II. Scholastic/Focus.
McAnulty, Stacy. Pluto!: Not a Planet? Not a Problem! illus. by Stevie Lewis. Holt.
Montague, Liz. Jackie Ormes Draws the Future: The Remarkable Life of a Pioneering Cartoonist. Random House Studio.
Varchol Perron, Lisa. Patterns Everywhere. Lerner/Millbrook.
Audio
Alexander, Kwame. An American Story. narrated by Stacy Gonzalez. Hachette Audio.
Alexander, Kwame. The Door of No Return. narrated by Kobna Holdbrook-Smith. Hachette Audio.
Applegate, Katherine. Odder. narrated by Alison Fraser, Yuuki Luna, Angel Pean, Nancy Wu & others. Listening Library.
McCullough, Joy. Enter the Body. ­narrated by Joy McCullough, Valerie Rose Lohman, Annie Q & Victoria ­Villarreal. Listening Library.
Ogle, Rex. Abuela, Don't Forget Me. narrated by Ramón de Ocampo. Recorded Books.
Poetry
Ashman, Linda. Champion Chompers, Super Stinkers and Other Poems by Extraordinary Animals. illus. by Aparna Varma. Kids Can.
Harjo, Joy. Remember. illus. by Michaela Goade. Random House Studio.